- MAKING YOUR WEDDING DAY SPECIAL FOR YOU BOTH -
A marriage celebrant helps guide you through your wedding celebration
As your marriage celebrant, it is important to help make your wedding a special day for you both so you can feel happy and confident.
At our initial meeting, we'll explore together your ideas for your wedding ceremony and look at some suggestions for Wedding Vows, prayers or blessings. You may even want to write your own vows! I have a wide range of material you may wish to have access to when considering the development of your own words and the format of your ceremony.
We will meet again to finalise the vows and ceremony. I like to attend the wedding venue before your wedding day so that we can hold a rehearsal and fine tune your requirements. This helps to remove any uncertainty before your special day."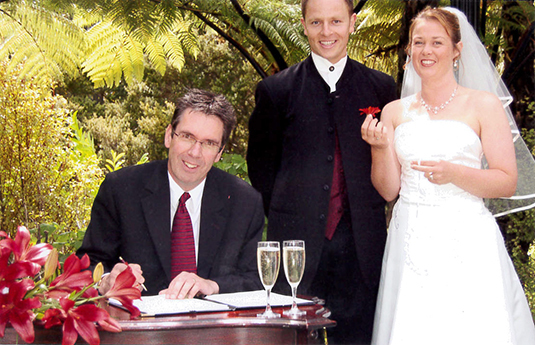 While Graeme is local to Lower Hutt, Petone, Wellington and Upper Hutt, for the last 20+ years, he has been a marriage celebrant at a host of different New Zealand locations.
You can contact Graeme by phoning him directly on 04 566 6965 or 021 878 862, or emailing graeme.sue@inspire.net.nz. Alternatively, please complete the contact form and Graeme will get back to you shortly.
"Graeme, you have really made our day feel easy. Thank you for the time you have taken to make us feel so happy and confident."
– Catherine and Rod, Wellington